The
ultimate island

destination
With crystal clear lagoons, enticing temperatures, relaxed ambience and a warm welcoming people, the Cook Islands make it an easy choice when it comes to saying `I do".  Simultaneously remote and accessible, modern and traditional, the Cook Islands present a perfect paradise for a wedding to inspire the soul.
Although Rarotonga in the Cook Islands is small (think just 32 kilometres around and with only one road to circumnavigate) this island simply has everything you need for a perfect wedding. Pristine waters, a vast range of resorts to relax at and a burgeoning organic and artisan food scene, you will fall in love all over again.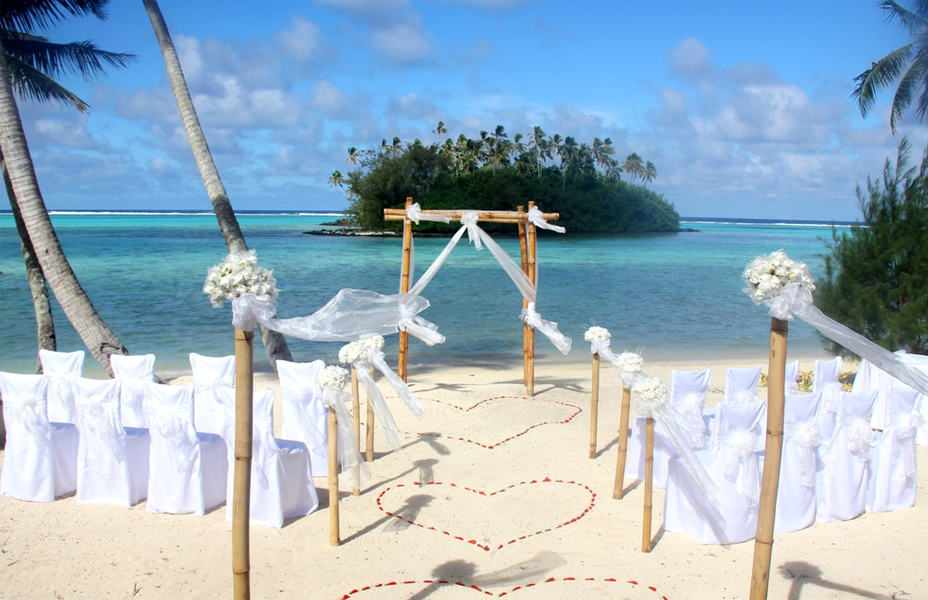 Where can I have the wedding?
Picture yourself walking down the aisle of a traditional Polynesian church to a melodic choir of island voices, or stepping barefoot onto a sandy shore to say your vows flanked by a tropic sunset, being borne by husky islanders onto a Motu to pledge your love under a fragrant Frangipani bower.
Will my marriage be recognised worldwide?
Licences are easily obtained and your marriage is legal and recognised worldwide.
Simply send us a message and we can help you customise your Cook Islands wedding to your tastes and budget!
Perfection in the Pacific
Imagine fertile mountains, calm lagoons, pretty coastal scenes and sandy beaches. Soon after landing you can be kayaking on a crystal clear lagoon, sipping on your first cocktail or relaxing poolside. Rarotonga is like one big resort where you can easily go from pampering to paddle-boarding; kayaking to cocktails; from island hikes to island nights. The vibe is chilled and the culture, traditions, arts and crafts are distinct from all other destinations in the Pacific.  
Rarotonga is extremely beautiful and is small enough that exploring it is easy. It is also home to many amazing cafes and restaurants, so you are not resort-bound with many amazing food options to try out.  Aitutaki is a simply breathtaking island with one of the most exquisite lagoons in the world.
Enjoy the perfect island wedding on Cook Islands