Marianne & Paul :

A love story
As you all know, we love a good holiday, it's what defines us. So, it makes sense that we turn this serious and life-changing event in to a reason to get-together with awesome people and kick back in Fiji.
We'd love for you to come help celebrate our love in a tropical, beautiful, but more importantly, relaxed and casual setting and have an unforgettable holiday at the same time. We know this is a huge ask, but hope the lead time and the fact Mandi has locked in some excellent rates will help sway your decision. Oh, and we don't want presents; your presence is all we need!!
Keep scrolling for more details.
Where:
Pullman Nadi Bay Resort & Spa, Fiji
The Pullman is located in Wailoaloa (Nadi Bay) which is about 15 minutes from the airport. It is situated on a quieter beach, away from Denarau but close enough to get there easily. There are some cool restaurants along the beach that have a great casual vibe for somewhere and eat and drink outside of the resort.
We have negotiated a fabulous group rate at the Pullman Nadi Bay. Located Beachfront On Wailoaloa Beach, and offering Al fresco dining. Ocean view rooms. Famous Gin Lounge.
If you are on a budget, there are some smaller 3 star places nearby as well as a backpackers, but they all share the same beach so it is really easy to get together.
The Pullman offers 236 rooms and suites along with an extensive range of facilities including 4 restaurants, 3 bars, 3 swimming pools, a day spa and a 24-hour fitness center.
​All rooms are modern and feature Fijian inspired décor. Each will take a maximum of 3 adults, prices are based on 2 adults sharing, rollaway beds can be added at a surcharge.
One child 12 years of age or under can stay free of charge (room only) in a room occupied by the parents, subject to the family using existing bedding. There will be an additional charge for a rollaway bed or cot, if required.
Their 2 signature restaurants are:
Kah – Their signature restaurant, Kah offers an array of specialty dishes to provide a unique culinary journey through Thai cuisine, executed with local ingredients and modern technique.
Magiti – Magiti is a multi-cultural experience, with a robust selection of Australian, Italian, French, Fijian, South East Asian and Chinese cuisine. Offering all-day dining including breakfast with a extensive range of cuisine options, pastries and fresh fruits.
In addition the Ro Bar offers food and drinks all day in a modern environment. The perfect place to meet or relax.
Download our brochure for more information on the Pullman.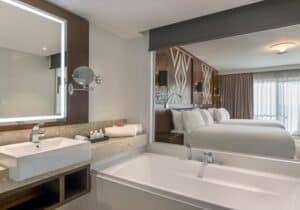 We are holding a group of rooms at the Pullman for 4 nights. We are able to extend the same rate should you wish to stay longer as well.
Based on twin share (2 people sharing) – please ask us for other options.
These are group rates based on a 4 night stay.  Additional nights can be booked subject to availability.
Current 4 night package
Arrival private car or minibus transfers from airport to the resort
4 nights accommodation in a Run of House room based on twin share
Breakfast daily
Departure private car or minibus transfers from the resort to the airport

From $629 per person
Flights
Flights will be loaded in to the system approximately 9-10 months prior. We are also able to obtain group rates depending on numbers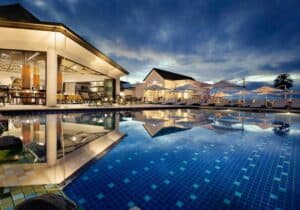 SMUGGLERS COVE
Smugglers Cove is located right on famous Wailoaloa Beach
Smugglers Cove offers a variety of accommodation types to suit all budgets and expectations. Rooms are fitted out to 3 star quality and are clean, comfortable, cool and serviced daily.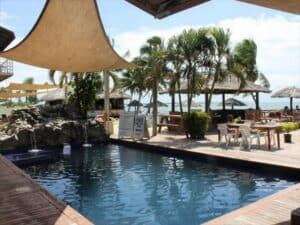 Please complete the below form to RSVP. We hope you will be able to make it. Viva Destination Weddings can help organise all of your travel requirements to the event for the best prices, from flights, hotels, transfers, activities and travel insurance. If you fill out the quotes and assistance form below your details will be sent to our team to get in touch. 
Prices for airline tickets can change very quickly and therefore cannot be guaranteed until paid for in full. Often we are unable to hold seats reserved without payment, so this price is a guide only, reflecting the availability at the time of quoting. Due to fluctuations in currency exchange and availability, all costs are subject to change without notice.

We are not holding any reservations for you at this stage

It is HIGHLY RECOMMENDED that all passengers travelling are covered by Comprehensive Travel Insurance. Please advise if you would like Travel Insurance and we will quote a policy specific to the region you are travelling to. For this we will need the dates of birth of all those travelling and if anyone has a pre-existing medical condition.
About

Viva Destination Weddings
Hello and welcome from wedding specialist team, we just wanted to introduce ourselves & let you know the run down on how to organize your holiday without the stress (aka. with us).
We have been working alongside the Bride and Groom to ensure their Destination Wedding is all they have ever dreamed of – and more!
​
But we also understand that a wedding is nothing without the guests, so you may have questions about the trip and we are here to help with your travel needs.
We are an ATAS accredited travel agent with a special flair in destination wedding planning, best of all, we charge absolutely no extra costs to use our service than going online. through any other agent or direct to the hotel or airline. We also offer lay-by and flexible payment options.​​

In fact, the more people we have, the better! The more we can negotiate as a group, which means the more value we can offer to you!
We can arrange your travel from wherever you are departing, while providing personalised service to ensure that you have a wonderful stress free holiday. We will make sure your individual needs are met in combining a tailor made getaway for yourself, to go hand in hand with the festivities of the fabulous wedding!