Beau & Kaitlyn :

A love story
Beau and Kaitlyn
Where Australia meets Canada. For those of you who may not know we met in Thailand in 2017, Kaitlyn was travelling alone and Beau was with his brother and mate. When the two of us finally worked up the courage to talk to each other we hit it off and were inseparable for the remainder of the trip. Ever since we've been on one amazing and crazy adventure. From a long-distance relationship, many trips in between to Kaitlyn moving to Australia. We love exploring as much of the world as we can at any given chance and wandering around our own back yard of Australia. Whether we are in a car, on a plane or on the water, adventure is never too far behind. With every new experience, our love grew stronger and knew we wanted to go through this crazy thing called life together as Husband and Wife!
We'd love for you all to come help celebrate our love on this amazing and beautiful but more importantly, relaxed and fun adventure and to also have an unforgettable holiday in Hawaii at the same time. We look forward to seeing you!
Venue:
Ceremony:  Moanalua Gardens
Reception:  Outrigger Waikiki Beach Resort
Times TBC
Dress code:
"Dressy casual" – We may be on holiday but please wear something that is both dressy/smart and casual. Leave the board shorts for another day! And of course, no white please, that is reserved for the bride
Beau & Kaitlyn arrival date:
Beau & Kaitlyn departure date:
Pre wedding gathering
15 April 2023
Beau and Kaitlyn would like to hold a special gathering for all guests on before the wedding on 15 April to thank them for being part of their special day.  More details will be advised closer to the time.
Ceremony
Moanalua Gardens is a 24-acre (97,000 m2) privately owned public park in Honolulu, Hawaii.  The gardens include the Hitachi Tree, a gigantic monkeypod tree whose spreading limbs are over a century old. Visiting this garden is a truly unforgettable experience and the perfect location for an unforgettable Hawaiian wedding!
Reception
The Waikiki district is located on the island of Oahu and runs adjacent to world-renowned Waikiki Beach. The reception is being held at The Outrigger Waikiki Beach Resort, one of Waikiki's only true beachfront resorts.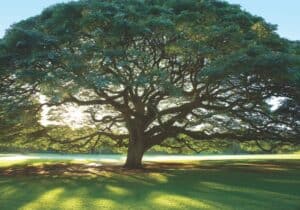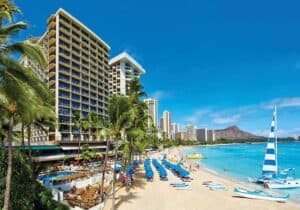 Waikiki has many accommodation options depending on your budget and requirements.
Outrigger Waikiki Beach Resort  (reception venue)
We are currently negotiating group rates directly with the resort that will be made available closer to the date.
As an approximate guide only, a 5 night stay would start from $2,800 (AUD) for 2 people, room only.  At the time of publishing the Canadian Dollar is very similar to the Australia dollar.  We can confirm at the time of booking if this changes.
Group and other room rates will be made available closer to the time
Other options
If you would like to discuss other accommodation options please let us know and we can arrange a quote based on your budget and circumstances
Please RSVP below to save the date. A formal invitation will follow.  To enable Kaitlyn & Beau to plan their amazing wedding, they would like to know if you are definitely coming. Should COVID still be an issue, and we need to change dates etc, of course we understand. On the assumption that all will be fine by then though, a definite RSVP is appreciated!
Please complete the below form to RSVP. We hope you will be able to make it. Viva Destination Weddings can help organise all of your travel requirements to the event for the best prices, from flights, hotels, transfers, activities and travel insurance. If you fill out the quotes and assistance form below your details will be sent to our team to get in touch. 
Prices for airline tickets can change very quickly and therefore cannot be guaranteed until paid for in full. Often we are unable to hold seats reserved without payment, so this price is a guide only, reflecting the availability at the time of quoting. Due to fluctuations in currency exchange and availability, all costs are subject to change without notice.

We are not holding any reservations for you at this stage

It is HIGHLY RECOMMENDED that all passengers travelling are covered by Comprehensive Travel Insurance. Please advise if you would like Travel Insurance and we will quote a policy specific to the region you are travelling to. For this we will need the dates of birth of all those travelling and if anyone has a pre-existing medical condition.
About

Viva Destination Weddings
Hello and welcome from wedding specialist team, we just wanted to introduce ourselves & let you know the run down on how to organize your holiday without the stress (aka. with us).
We have been working alongside the Bride and Groom to ensure their Destination Wedding is all they have ever dreamed of – and more!
​
But we also understand that a wedding is nothing without the guests, so you may have questions about the trip and we are here to help with your travel needs.
We are an ATAS accredited travel agent with a special flair in destination wedding planning, best of all, we charge absolutely no extra costs to use our service than going online. through any other agent or direct to the hotel or airline. We also offer lay-by and flexible payment options.​​

In fact, the more people we have, the better! The more we can negotiate as a group, which means the more value we can offer to you!
We can arrange your travel from wherever you are departing, while providing personalised service to ensure that you have a wonderful stress free holiday. We will make sure your individual needs are met in combining a tailor made getaway for yourself, to go hand in hand with the festivities of the fabulous wedding!