Artisian & John :

A Fiji wedding
Bula 
Welcome to our wedding website, the place where you will find all the important information & more to our wedding.
We created this website to make it as easy as possible for our guests to RSVP, book flights, accommodation, & to share all the finer details.
Feel free to have a browse, & in case you were wondering how we met, here's our little story. 
 November 2015, we first met at my friends house, who is actually his cousin. It was a quick hi & bye but that was enough for him because he added me on Facebook not long after, but the thing that got me was his very first message. It blew me away " chur koro "  like honestly who says that ????  March 2016 we had our first date at the Broncos Vs warriors game, it was actually funny because our kiss ended up on Tv and not only did his friends see it but so did his mum, & to make it worse she texted him a picture ( how embarrassing ????) 
Later in the month, I met his parents, he met mine and John & I became inseparable. 4 years later, 10 kgs heavier he FINALLY made me his Fiancé. Our 5th year anniversary will be the day we tie the knot, March the 26th which is why we chose this specific date. 
Thank you guys for your continuous love & support. John & I cant wait to share our special day with you & look forward to seeing your beautiful faces in Fiji! Remember, God is Good and Don't forget to RSVP.
Where:
Sofitel Fiji Resort & Spa
Dress code:
All white cocktail attire
Bride & Groom arrival date:
Bride & Groom departure date:
The 5 star Sofitel Fiji Resort & Spa is located on Denarau Island overlooking the beachfront.  Perfect for families or couples the excellent location and resort facilities makes Sofitel a ideal location to celebrate Artisian and John's wedding.  A range of different rooms are available to suit guests of all budgets. For more information on the resort and the rooms download our Sofitel brochure and refer to the Guest Travel section on this page.
Viva Destination Weddings have sourced an exclusive group rate for guests of Artisian and John's wedding.  Book now so you don't miss out!
Price:  $579 per person twin share, includes:
Arrival private car transfers from airport to resort
4 nights accommodation in a Superior Room, 1 King Size bed, Oceanside
Unlimited in-room movies & unlimited Wi-Fi
Unlimited non-motorised water sports
Stay a minimum 4 nights or more and receive 1 free 30 minute massage per room (once per stay)
Departure private car transfers from resort to airport
Upgrade options available (prices are per person):
Superior Room, 2 Queen Size beds, Oceanside: $96
Luxury Room, 1 King Size bed, Oceanside: $235.50
Family Room, Bunk Beds: $348.50
Luxury Family Rook, Bunk Beds:  $501
Waitui Beach Club Room, 1 King Bed, Oceanside:  $653.50
Waitui PLUS Beach Club Room, 1 King Bed, Oceanside:  $958.50
Special Offer!
For every adult that books an accommodation package with Viva Travel, an FJD25.00 resort credit will be provided to Artisian & John to use towards their stay at the Sofitel.
A minimum of 45 adults is required.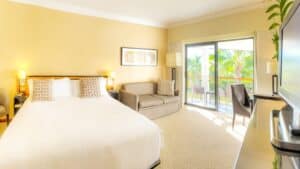 Please complete the below form to RSVP. We hope you will be able to make it. Viva Destination Weddings can help organise all of your travel requirements to the event for the best prices, from flights, hotels, transfers, activities and travel insurance. If you fill out the quotes and assistance form below your details will be sent to our team to get in touch. 
Prices for airline tickets can change very quickly and therefore cannot be guaranteed until paid for in full. Often we are unable to hold seats reserved without payment, so this price is a guide only, reflecting the availability at the time of quoting. Due to fluctuations in currency exchange and availability, all costs are subject to change without notice.

We are not holding any reservations for you at this stage

It is HIGHLY RECOMMENDED that all passengers travelling are covered by Comprehensive Travel Insurance. Please advise if you would like Travel Insurance and we will quote a policy specific to the region you are travelling to. For this we will need the dates of birth of all those travelling and if anyone has a pre-existing medical condition.
About

Viva Destination Weddings
Hello and welcome from wedding specialist team, we just wanted to introduce ourselves & let you know the run down on how to organize your holiday without the stress (aka. with us).
We have been working alongside the Bride and Groom to ensure their Destination Wedding is all they have ever dreamed of – and more!
​
But we also understand that a wedding is nothing without the guests, so you may have questions about the trip and we are here to help with your travel needs.
We are an ATAS accredited travel agent with a special flair in destination wedding planning, best of all, we charge absolutely no extra costs to use our service than going online. through any other agent or direct to the hotel or airline. We also offer lay-by and flexible payment options.​​

In fact, the more people we have, the better! The more we can negotiate as a group, which means the more value we can offer to you!
We can arrange your travel from wherever you are departing, while providing personalised service to ensure that you have a wonderful stress free holiday. We will make sure your individual needs are met in combining a tailor made getaway for yourself, to go hand in hand with the festivities of the fabulous wedding!